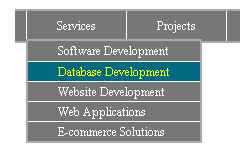 Do you want to build outstanding menus that save space and make your site looking better?
You don't need to be a java guru. You don't need to be a web developer at all.

Within a few steps you can build your own unique menu that will be implemented easily.
Change the color scheme, change the size and the position. Add more or less menu items. At the end just copy and paste.
Don't waste time developing your own. It's here, it's real and it's free. You can improve it. You can make all the changes you need.
If you still need help - just contact us.
Used technologies: HTML, Javascript and CSS. Browsers tested: IE 5+, NN 6+, Opera 6+.